a year ago
  |  
All Posts
Being Good Humans
At our core, we believe in three things at Oodle: 1) doing awesome shit, 2) we're stronger together, and 3) being good humans. The first two are pretty self explanatory – we do great work and teamwork makes the dream work – but it's our third value that we feel sets us apart.
For us, being good humans can take many forms, from something as simple as checking on a co-worker during the pandemic, to volunteering at your church. But sometimes being a good human can be something bigger. Sometimes you have the opportunity to make an impact on the world. 
The Homerun Cure™ for Cancer
The Cure Starts Now, an international non-profit based in Cincinnati, has an audacious mission: find THE cure for all cancers. They call it the Homerun Cure, and their approach is fairly simple – they fund research into cancers with the highest mortality rates, that are immune to current treatments, and those that primarily affect children: cancers like DIPG. 
Oodle was introduced to The Cure Starts Now by our VP of Creative and Marketing,  Joshua Thompson. Josh had worked closely with The Cure Starts Now since their inception over 13 years ago. Once he explained their purpose and goals, we knew we needed to be a part of their mission.
"Oodle has proven to be an invaluable resource and partner in our war against cancer with heart and dedication. We have tapped into their diverse expertise several times, including: website design/development, video production, and SEO. They frequently collaborate with us to see how they can help."

- Brooke Desserich, Executive Director & Founder of The Cure Starts Now
Living Our Core Values
Initially, we worked with The Cure Starts Now on updating their website. As they continued to expand across the country and across the globe, there was a need to elevate their brand aesthetics to a more level playing field with similar foundations that they would be competing with. While The Cure Starts Now focuses on pediatric cancers, they are driven by science and research so we wanted to create a look that would feel professional and hopeful, while acknowledging their focus on children. Additionally we wanted to highlight everything they were doing to help in the battle against cancer, so we created an interactive map that shows where their chapters are located, where they've funded research, and locations of upcoming events.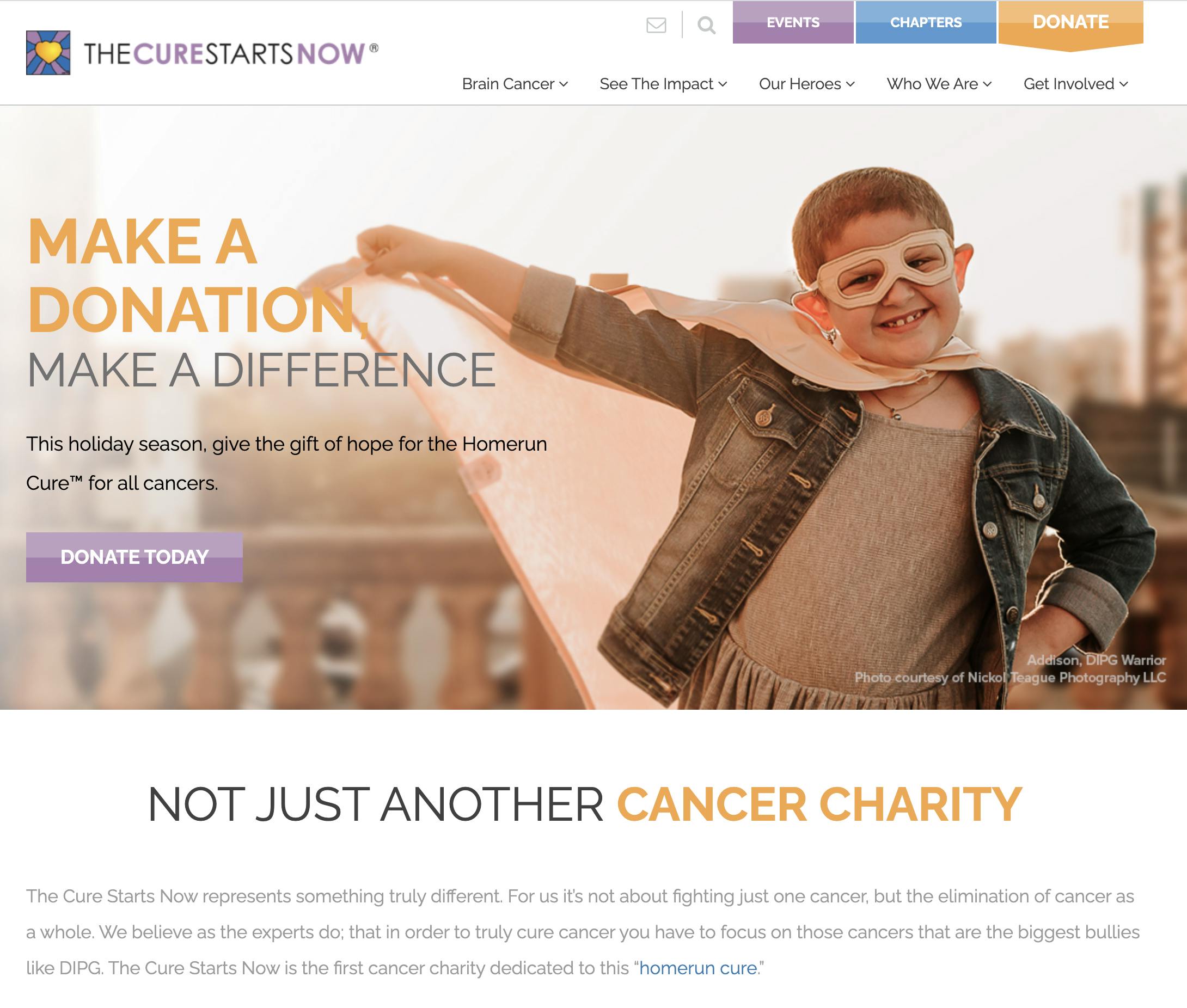 Recently we've upped our commitment to The Cure Starts Now by adding them as a pro bono client – donating our time and services. Since then, we've worked with them on SEO recommendations and enhancements that have helped the foundation's main site and their companion site, dipg.org, see sustained increases in organic traffic. 
But the most fun has been helping give life to their most recent campaign: Cancer Rebel.
Reaching a Wider Audience
The Cancer Rebel campaign was the brainchild of foundation director Brooke Desserich. She wanted to find a way to reach a passionate audience – those that are battling cancer, have battled cancer, or know someone who has – and use that passion to help fund more research.
We worked with The Cure Start Now to develop a set of edgier videos that allow them to reach a new audience by selling their mission in a whole new way.
It's Working and You Can Help
Since its founding The Cure Starts Now has helped fund over $15,000,000 in cancer research. Their research has had a direct impact on children and families as the prognosis for those diagnosed with DIPG have nearly doubled. But the fight isn't over. You can help support the Homerun Cure for cancer by making a donation at donate2csn.org.