You might find it hard to believe, but despite having a sponsor for tires, air fresheners and even cloud storage, Major League Baseball has never had an official hot dog – until now.
Oodle client, Nathan's Famous, has been named the official hot dog of MLB, and we're savoring every sizzling moment.
The world-famous frankfurter opened up the 2017 MLB season with one of the biggest promotions of its century-old history, the Nathan's Original All-Star Sweepstakes.
"This is a fantastic time to be a baseball fan," said Mike Paribello, senior director of brand marketing for Nathan's Famous. "America's favorite pastime paired with an American original hot dog to make one amazing partnership. And for our fans, the chance of a lifetime."
On the table? A trip to the 2017 MLB All-Star Game, plus other great prizes. Oodle's digital efforts include the sweepstakes microsite, behavior-based targeting strategies, video, email and social media.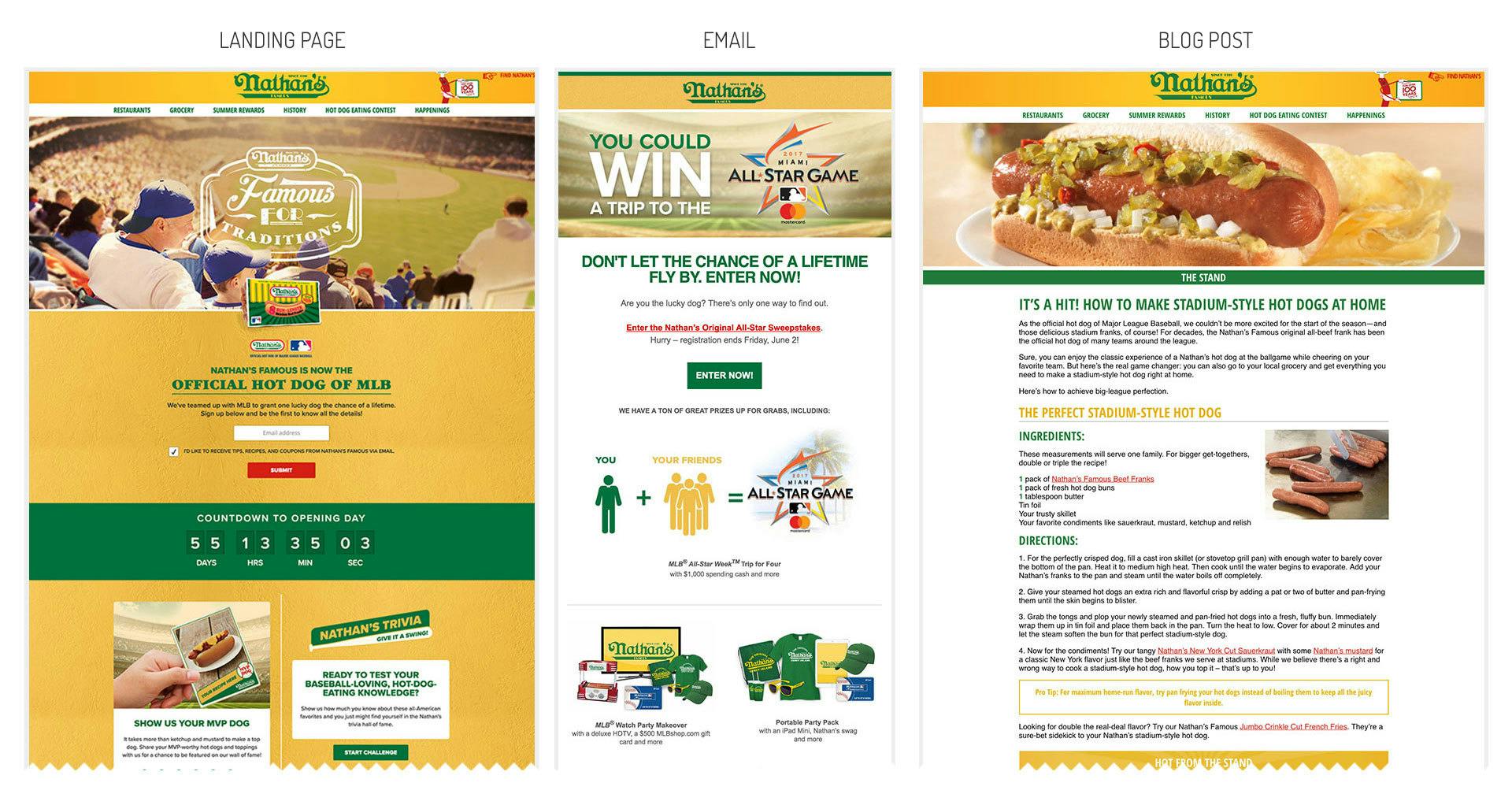 Take a look at few of the tactics in our digital lineup.
A DIGITAL GRAND SLAM
"How awesome is this? Two American favorites playing for the same team, and we're right there driving home this historic connection in the digital space," said Ryan Hughes, Oodle partner and chief innovation officer.
More than MLB's official hot dog, Nathan's Famous is also the hot dog of choice of the Cardinals, New York Yankees, New York Mets and Miami Marlins, and the official beef frank of the Cincinnati Reds. 
A grand slam on social? Trivia and asking Nathan's faithful how they top their dogs.
While the campaign is currently in full swing, Oodle will support this famous partnership throughout the season and all the way up to the World Series.
"We're just getting started," said Paribello. "It's a long season, and we're incredibly excited to bring the iconic taste of Coney Island to fans nationwide. Oodle is a critical partner in helping us deliver on that promise."
Hungry to see more of the work? Head on over to www.NathansAllStar.com.
MORE ON NATHAN'S, THE WORLD FAMOUS FRANKFURTER
Nathan's Famous is available in a variety of beef franks at supermarkets across the country including natural casing, skinless, bun-length, 50 percent reduced fat, angus, and more.
Smithfield Foods is the licensee of Nathan's Famous pre-packaged hot dogs.
ABOUT OODLE
Oodle is a Cincinnati digital marketing agency that specializes in fueling experiences and brand development in the ever-changing digital realm. Combining wicked smart thinking with some epic nerdery, Oodle transforms brand needs into authentic audience-brand interaction.
Oodle's experienced team works with some of the nation's largest brands to deepen the relationship with consumers to provide unwavering, results-oriented work that thrives on new challenges and big ideas. Oodle has been honored on the Inc. 5000 list of America's fastest-growing private companies and recognized as of Cincinnati's Best Places to Work.
Oodle counts among its client roster Nathan's Famous Hot Dogs, Eckrich Meats, Skinnygirl, EyeMed, Cincinnati Children's Hospital and Cracker Barrel Old Country Store.
ABOUT NATHAN'S FAMOUS
Nathan's currently distributes its products in 50 states, the District of Columbia, Puerto Rico, the U.S. Virgin Islands, Guam, the Cayman Islands and nine foreign countries through its restaurant system, foodservice sales programs and product licensing activities. Nathan's was ranked #55 on the Forbes list of the Best Small Companies in America and was listed as the Best Small Company in New York State in October 2013. Last year, over 500 million Nathan's Famous hot dogs were sold. For additional information about Nathan's please www.nathansfamous.com.
ABOUT SMITHFIELD FOODS
Smithfield Foods is a $14 billion global food company and the world's largest pork processor and hog producer. In the United States, the company is also the leader in numerous packaged meats categories with popular brands including Smithfield®, Eckrich®, Nathan's Famous®, Farmland®, Armour®, John Morrell®, Cook's®, Kretschmar®, Gwaltney®, Curly's®, Margherita®, Carando®, Healthy Ones®, Krakus®, Morliny®, and Berlinki®. Smithfield Foods is committed to providing good food in a responsible way and maintains robust animal care, community involvement, employee safety, environmental and food safety and quality programs. For more information, visit www.smithfieldfoods.com.