4 years ago
  |  
Search Engine Marketing
Nothing beats the satisfaction of knowing that your pay-per-click (PPC) marketing campaign has delivered the results you need. Whether you've used PPC to get a new business started right, or to give a lift to an existing venture that's seen flagging traffic, it's great to Google your business and see that your company is right at the top.
That's the time when many Oodle clients ask the title question: "I'm ranked on page one already. So I can stop running PPC, right?"
Even those in the number one position in search can get 50% more clicks by running PPC campaigns.
We can see their point. After all, organic rankings are up, people are clicking on your website and you're starting to feel like you've accomplished everything you set out to do online. But even though that's how it looks, you can't afford to stop now. If you do, you'll miss out on new opportunities to get your business in front of the right people.
ORGANIC TRAFFIC ROCKS. SO DOES PPC!
It's true that organic traffic is crucial. A HubSpot study shows that 70% of people click on organic links in search results. So that's why so many people focus on search engine optimization (SEO) to drive those organic clicks. SEO is all about helping your web pages rank better by looking after on-page and off-page ranking factors that affect their position. That tackles everything from linking, content and keywords, to social factors. In contrast, PPC is all about achieving higher placement in sponsored search results by bidding on keywords that are relevant to your business.
But although these are two different approaches, they actually work better together as part of your overall search marketing strategy. In fact, if we look at that HubSpot study another way, you could say that if you're not doing PPC, you're missing out on the 30% of people who click on paid links - and that's a heck of a lot of clicks and potential traffic, isn't it?
7 BENEFITS OF RUNNING PPC CAMPAIGNS
Here are some of the other benefits of keeping your PPC campaigns chugging along.
1. BOOST YOUR SEARCH RANKING
One thing that's changed since the early days of search is where organic search results start. These days, having a number one organic search ranking still doesn't guarantee you the top position in a list of search results. Those top spots are reserved for paid results, bought by people running PPC campaigns. If you don't use PPC, then your link is competing for attention with those that do. If you do, then you might grab one of those coveted top spots and pique the interest of a searcher.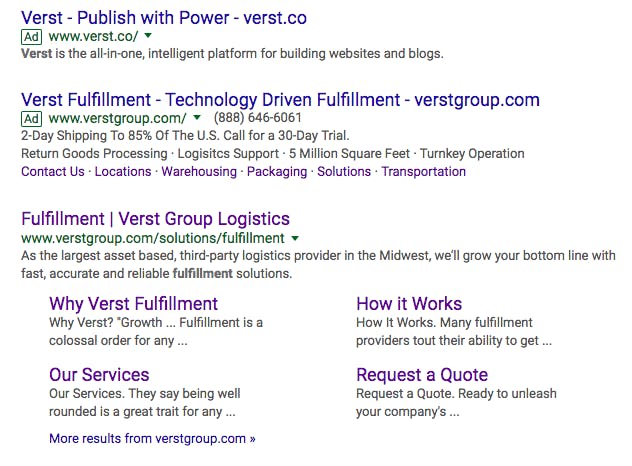 SEO and PPC gives brands the double whammy of visibility. Proof? See how our client, Verst Group, dominates the top search results.
2. IMPROVE MOBILE SEARCH POSITION
While we're talking about this, let's consider mobile search. The latest data from Pew shows that 77% of adults in the U.S. own a smartphone. And a year after mobile searches surpassed desktop searches, mobile web use outstripped desktop web use. Want more? Google recently announced a mobile-first index, putting the onus on website owners to make their web properties mobile-friendly. Or better yet, mobile-first.
What does this mean for you? Mobiles are the dominant devices and a Search Engine Watch study shows that paid search dominates the mobile screen. Let's face it, there's not a lot of room for anything else. If you want to be visible to mobile device users, you can't afford to abandon PPC.
3. BUILD TRUST
While organic search results are usually seen as more trustworthy than paid results (some people don't trust advertising at all), using paid results can help boost your trust factor. If web users see both an organic link and a paid link for your business within a short space of time, this can make you look more trustworthy, especially if your links are high on the results list.
4. CREATE HIGHER SEARCH RELEVANCE
We all know that relevance is an important search ranking factor (especially with Google tweaking algorithms all over the place) to show people exactly what they need, when they need it. That's another way PPC can help give a lift to organic results.
If you're not doing PPC, you're missing out on 30% of people who click on paid links.
A well-executed PPC campaign can result in your ads showing up for the right people because they are most relevant to what that person is searching for. Plus, your ad might show up in different places for the same user (depending on the keywords you pick), which puts you top of mind when they are considering services like yours.
LOOKY HERE! Wait. You're still doing *that* to rank? Better check out the 8 Outdated SEO Tactics That Are a Colossal Waste of Time.
5. GAIN MORE REVENUE
When you're thinking about cutting back on PPC, it's probably because of cost. But did you know you can actually make more money when you run PPC along with your SEO campaign? Search Engine Land discovered that, plus a whole bunch of other great benefits:
30% increase in organic search traffic
25% increase in PPC clicks
35% savings in ad spend
20% increase in profits
100% more awesome
6. GET MORE ORGANIC TRAFFIC
Multiple studies show that when you combine SEO and PPC as an ongoing strategy, the traffic benefits can be absolutely massive.
Nectafy suggests that you use PPC to engineer a quick boost in traffic and deliver more organic traffic over time.
The way to do this is to find the keywords that are delivering leads, integrate these into your SEO strategy and optimize your content for those same keywords. Over time, your organic traffic should increase while keeping your PPC budget under control.
7. GET A BETTER CLICKTHROUGH RATE
A New York University study shows that "the presence of organic search listings has a positive association with the average click-through rates in paid search advertisements, and vice versa."
In other words, PPC results boost organic CTRs and organic results help PPC CTRs. Google agrees. Their research showsthat even those in the number 1 position in search can get 50% more clicks by running PPC campaigns. And the more clicks you get, the more leads and sales.
OTHER ADVANTAGES OF USING PPC
There are other benefits you can gain from continuing to run PPC alongside your SEO campaigns. Not only will you gain more credibility from the increased visibility, but you will improve your AdWords quality score, which leads to even more eyes on your ads. Plus, you'll get more insight into high-performing keywords you can use in your content. And if you use both strategies, that gives you some protection against future algorithm changes.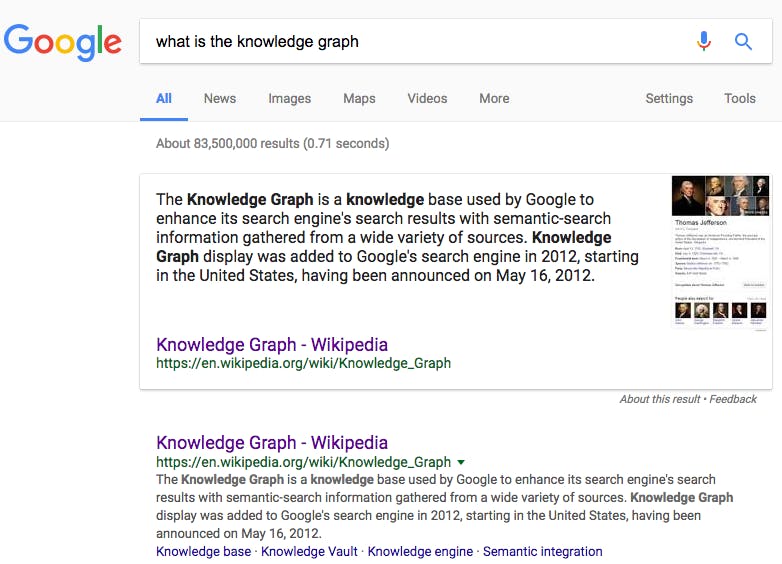 Think of the Knowledge Graph as a free digital billboard. Is yours optimized with the right keywords, and brand mentions?
It's also worth thinking about the Knowledge Graph: that box that appears above search results to give people the information they need without them having to click. If you have a high organic search position thanks to your SEO campaigns, there's a good chance your information could show up in this box, but you can seal the deal by including PPC to improve conversions.
THE FUTURE OF PPC?
Search algorithms and behavior will continue to evolve as technology changes, so what lies ahead for companies thinking about using PPC? As mentioned earlier, paid results appear above organic results in search and it's likely that these will get even closer as Google experiments with different ways of displaying them.
You also have to think about the social factor. PPC ads also include social ads, which can be very effective and can bring your products and services to a new audience. And when your social media network shares your ads, this improves the social signals that are part of Google's search ranking algorithm.
SO. NO, YOU CAN'T STOP USING PPC…
Your best approach is to combine the two for ongoing campaigns.
Use SEO to build traffic and get attention that is sustainable in the long term.
Use PPC to get a short term boost and to learn the keywords that can help with content marketing.
The potent combination will help you build authority, improve your search ranking and get more leads and sales.