•

Eric House
Oodle Races to #2 on Fast 55 List of Cincy's Fastest-Growing Companies
Oodle is growing fast and we have the kudos to prove it.
The Cincinnati Business Courier recently recognized Oodle as one of the fastest-growing local companies at the 10th annual Fast 55 awards.
Oodle finished #2 in the 2016 competition, which ranked area private companies based on revenue growth over the past three years.
"It's humbling," said Oodle partner and co-founder Mark Hughes. "We're in great company. Many of these finalists have shaped our city and helped turn Cincinnati into a powerhouse of innovation."
It tells our clients they're in the right place.
Since 2013, we've doubled our team size, added impressive national brands to our client roster, supercharged our capabilities through acquisition, and even crafted a faux brewery for a good cause.
Growth rooted in culture, digital focus
What's the single most important factor that led to Oodle's rapid growth? According to Oodle's other co-founder and partner Ryan Hughes, there isn't one.
"The most obvious is our culture," said Ryan. "We're unapologetically weird. Since day one we've worked hard to build an authentic culture – the kind that attracts wicked smart talent and makes them want to stay here and grow with us."
The most obvious is our culture. We're unapologetically weird.
The other? An unwavering commitment to all things digital and smart strategic thinking.
"We're a digital agency that's always been digital," said Ryan. "But we don't just build flashy sites and apps. We build cool-looking things that are rooted in strategy and UX. That's what moves the needle for our clients – and when they succeed, so do we."
EXPAND AND CONQUER... WITH A BALL PIT
As for what the future looks like for Oodle?
"Definitely a new office," said Mark. "We've outgrown our current space. We need more desks, more meeting rooms and probably another ping pong table. I hear there are requests for a ball pit, too, so we'll see about that."
Along with expanding our physical footprint, helping our clients continue to increase market share is at the top of the priority list.
"We plan to keep growing alongside our clients," said Mark. "This award is validating not only for our hard-working team, but the brands we work with. It tells them they're in the right place and doing business with the right people. There's no better feeling."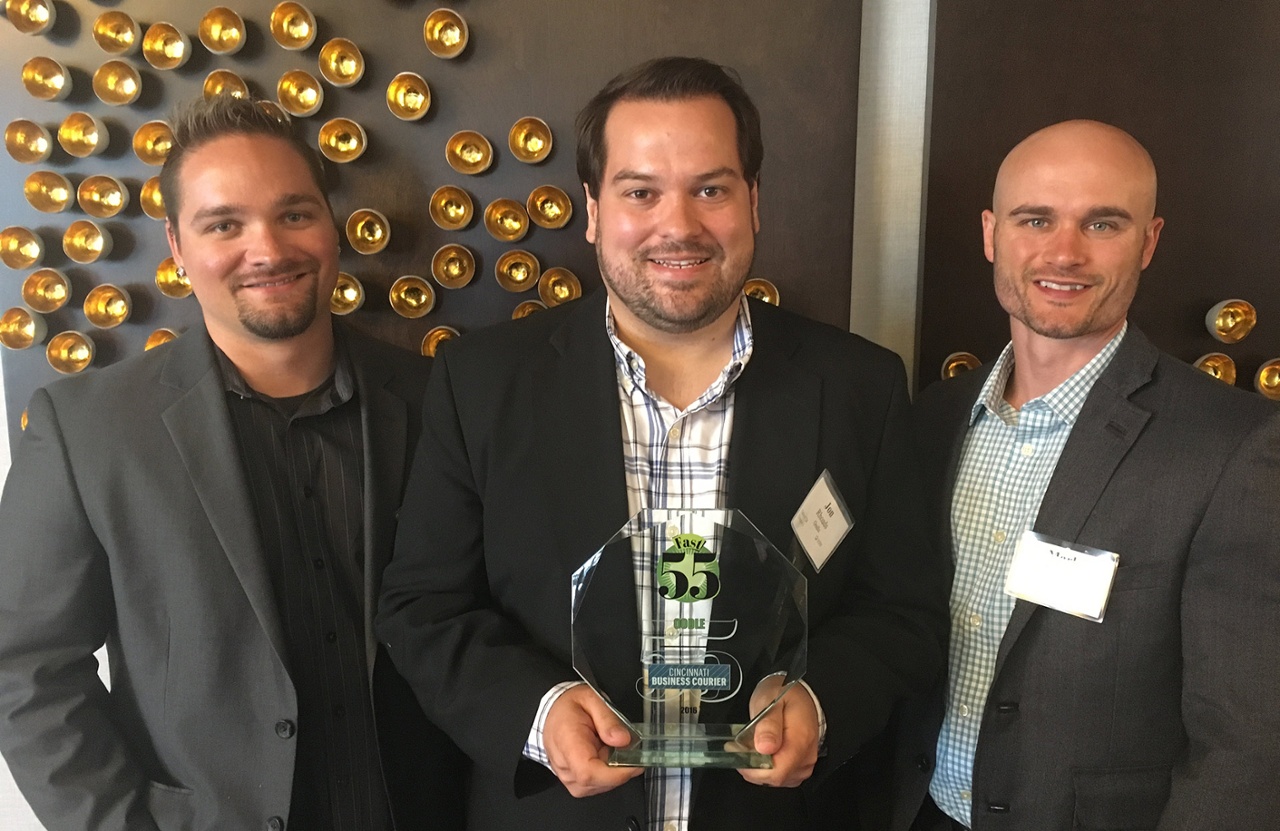 Oodle partners pose with the bling. From left to right: Ryan Hughes, Jon Rhoads and Mark Hughes.
ABOUT OODLE: WHAT WE DO AND WHO WE WORK WITH
Oodle is a digital marketing agency that specializes in fueling experiences and brand development in the ever-changing digital realm. Combining wicked smart thinking with some epic nerdery, Oodle transforms brand needs into authentic audience-brand interaction.
Oodle's experienced team works with some of the nation's largest brands to deepen the relationship with consumers to provide unwavering, results-oriented work that thrives on new challenges and big ideas.
Oodle counts among its client roster Nathan's Famous Hot Dogs, UC Health, Coney Island Park, Eckrich, RACO Industries, Fecon and Cracker Barrel Old Country Store.