•

Eric House
Oodle Joins the .01% Club, Ranks #826 on Inc. 5000 List of Fastest-Growing Companies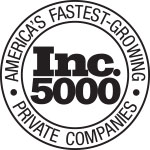 The .01% club has a new member.
Oodle earned spot #826 on Inc. Magazine's list of the 5,000 fastest-growing private companies in America.
With 480% growth over the past three years, Oodle now ranks among the top, teeny tiny percentile of companies in the country. It's an exclusive space reserved for juggernauts like GoPro, Fitbit, Dollar Shave Club, YETI and other notable Inc. 5000 winners past and present.
"There are 6-million private companies in America, so to say we're honored is an understatement," said Mark Hughes, Oodle partner. "Name any trailblazer, market disruptor and status-quo crusher. You'll find them on the Inc. 5000."
Insane growth. All part of the digital master plan.
What's driving Oodle's rise into the stratosphere? A potent mix of culture, great clients, aggressive hiring and a refusal to deviate from the digital master plan, to name a few.
"In three short years we've gone from a five-person shop to a powerhouse team of over 20 that works with household names," said Ryan. "Things are changing at warp speed and that's awesome for us and our clients."
As for what won't ever change?
"We're all digital all the time – always have been," said Mark. "If it can't live on a screen, we don't do it. There's a quote about doing one thing and doing it really well. We live by that because it's helped us grow alongside our clients, and produce some amazing results in the digital space."
That, and a Star-Wars-loving, beer-drinking, ping-pong-swinging culture…
"We embrace our nerdy side," said Jon Rhoads, Oodle partner. "It's who we are. A culture-first mentality has been key to hiring diverse, top talent and keeping them here to develop."
The next few years: doing the uncomfortable
With Fast 55 and Inc. 5000 awards in the bag, what's up next? Things are about to get uncomfortable – in a good way.
"The moment you get comfortable, you plateau," said Mark. "We intend to add even more talent to our team, and get out in front of the next big things in digital marketing because that's what our clients expect from us."
Oodle's growth spurt in infographic form

About Oodle: What we do and who we work with
Oodle is a digital marketing agency that specializes in fueling experiences and brand development in the ever-changing digital realm. Combining wicked smart thinking with some epic nerdery, Oodle transforms brand needs into authentic audience-brand interaction.
Oodle's experienced team works with some of the nation's largest brands to deepen the relationship with consumers to provide unwavering, results-oriented work that thrives on new challenges and big ideas.
Oodle counts among its client roster Nathan's Famous Hot Dogs, UC Health, Coney Island Park, Eckrich, RACO Industries, Fecon and Cracker Barrel Old Country Store.